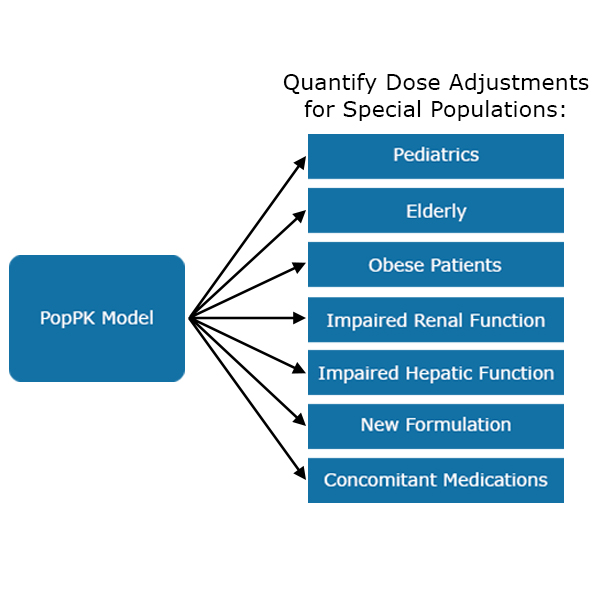 Population PK Modeling
This type of modeling is used when limited data is available and to identify influential covariate factors describing special populations of patients (i.e. elderly, pediatrics, patients with impaired organ function, or a progressive disease state) that significantly impact drug exposure, requiring dose adjustments.
Using simulations from our final model, we can quantify dose adjustments for each special population, if needed.
Covariate analyses to support dosing regimens and label claims
PK analysis of drugs in special populations (e.g. elderly, renal or hepatic impairment, and pediatric, etc)
Nonlinear mixed-effect PK modeling of small molecules and biologics, including complicated PK models (e.g. parent drug and active metabolite, drugs with enterohepatic cycling, and target-mediated drug disposition models)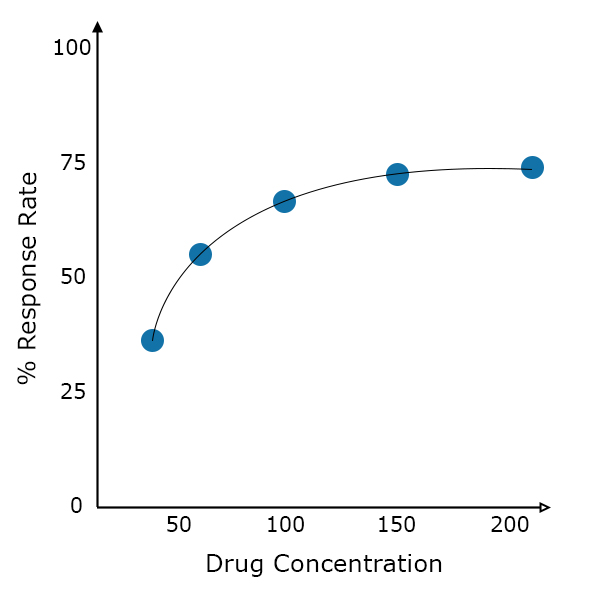 Exposure-Response PK/PD Modeling
In order to identify dose levels that maximize symptom relief, result in optimal tumour shrinkage, or minimize adverse effects in patients, we build exposure-response PK/PD models using mixed-effect nonlinear modeling techniques to link drug exposure with an efficacy response or adverse events.
PK/PD analysis provides quantitative evidence of drug efficacy and/or safety for regulatory assessment or to influence internal business decisions concerning drug pipeline or commercialization strategy.
These types of models can quantify a drug candidate's potential benefits and risks associated with each dose level to allow determination of optimal dosing regimens in each treatment.
Have any questions? We're here to help! Contact Us
Additional Services
Non-Compartmental Analysis (NCA)

Characterizes the pharmacokinetic (PK) profile of a drug treatment.

Physiologically Based Pharmacokinetic (PBPK) Modeling

Describes the organism as a set of tissue compartments interconnected by blood flow to understand changes in PK due to chemical reactions, enzyme activity, drug interaction, or any type of physiological changes.

Trial Design

Planned properly, such as performing sample size and power analyses, can help increase efficiency and reduce costs of a trial.

Preliminary Analyses

Identify any data issues or patterns useful in guiding model development.

Data Management

Experienced programmers in SAS and R ready to assist in any data preparation needs.